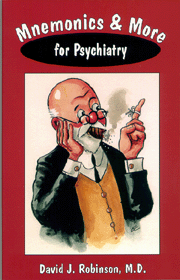 Mnemonics & More for Psychiatry
Provides a practical and comprehensive introduction to clinical psychiatry. Mnemonics (memory aids) and clinical summaries are provided for the following areas:
Major Psychiatric Disorders
Personality Disorders
Interviews and Assessments
Cognitive Functions
Medical Disorders
Medication Indications and Side Effects
Special Topics
The information is presented in a highly readable and enjoyable manner. This book is useful for exam review, as a handy reference during clinical rotations and for anyone interested in an overview of the field.
ISBN (10) 1-894328-XX-X; (13) 9781894328XXX
Price $25.00 USD
274 pages, soft cover
An excerpt of this book is availble online in PDF format. If you have the Adobe Acrobat Reader installed you may download this excerpt to review by following this link (mnemon1.pdf - 110 kb)
"For those who are teaching Abnormal Psychology (or even Normal Psychology), this book is a great way to help students and interns deal with the Major Clinical and Personality Disorders from the DSM-IV. Using funny and appropriate mnemonics, Dr. Robinson helps us to remember the essential elements of various ailments.
Not since Lazurus came up with the BASIC ID to help us remember his multimodal approach has there been such a book to help mental health professionals deal with the vast amount of material in a comprehensive way. Robinson uses humor to help us learn, remember, and ultimately to help our clients and patients better, and to make the H.M.O. process less onerous. I recommend this to P.H.Ds, M.S.W.s and suggest P.D.Q. they purchase this book A.S.A.P."
Michael F. Shaughnessy Ph.D.
Professor of Psychology
Eastern New Mexico University