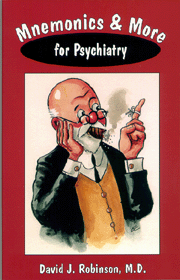 Book review from Doody Publishing, Inc.
Mnemonics & More for Psychiatry
[AUTHOR] Robinson, David J., BA, MD, FRCPC (Univ. of Western Ontario)
[BIBLIOGRAPHIC DATA] ISBN: 0968209416, Country of Origin: U.S.A., no index, 8 chapters, 160 pages, soft cover.
[DOODY'S NOTES] Primary audience is Medical Students. Secondary audience is Psychiatry Residents. The book contains black-and-white illustrations.
[REVIEWER'S EXPERT OPINION] Thomas G. Cobb, M.D. (Rush-Presbyterian-St. Luke's Medical Center)
**Description**
This is the second edition of a concise introduction to psychiatry, its disorders and treatments, that uses a bulleted format with mnemonics and illustrations to help remember key points.
**Purpose**
The author designed this book as an exam review and DSM-IV diagnostic criteria aid. It is a supplement to standard texts and is not intended as a complete summary of psychiatric conditions. Concise reviews are a valuable tool, especially to students headed for other fields. The author's objectives are well met.
**Audience**
According to the author, the intended audience is medical students during clinical rotations and for exam review. This book may also be beneficial to first year psychiatry residents as a quick introduction and guide for medical student lectures. The author is a credible expert on general psychiatric knowledge.
**Features**
My only criticism is of this book's major distinguishing characteristics, the mnemonics and illustrations. While they do make some of the information easier to remember, this is only the case when the mnemonic relates to the subject matter. Otherwise, they are a distraction and only make learning more difficult. The author indicates that the illustrations are exaggerations and the caricatures are not done out of disrespect or disregard for those who suffer from these disorders. Although an effective memory aid, the illustrations do not promote a professional attitude toward the field of mental health. The table of contents, which serves as the index, is sufficient considering the amount of information and organization of the book. The appendixes have both useful and distracting information.
**Assessment**
This is a useful supplement to other more comprehensive texts. Medical students busy on their clinical rotations would benefit from this concise review, and it is worth its purchase price.
Weighted Numerical Score: 80 - 3 Stars out of 5
Anne V. Hennessy
Managing Editor
Doody Publishing, Inc.
anne@doody.com
(708) 386-9500
(708) 386-0860
An excerpt of this book is availble online in PDF format. If you have the Adobe Acrobat Reader installed you may download this excerpt to review by following this link (mnemon1.pdf - 110 kb)