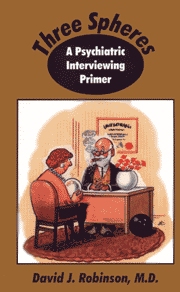 Three Spheres: A Psychiatric Interviewing Primer
"Clinicians continue to develop their interviewing skills over their entire careers. To start this process, Dr. David Robinson primes the beginning clinician's pump with examples, vignettes, graphs, and grids. His humorous illustrations secure the reader's emotional response and his mnemonics the cognitive response - so that what is taught is easily remembered.
His primer primes more than the novice. It re-invigorates the seasoned clinician. This book surpasses its GOAL -
Guidance
Organization
Animation
Laughter
Masterfully done!"
Ekkehard Othmer, M.D., Ph.D.
Adjunct Professor of Psychiatry
University of Kansas Medical Center
Author of "The Clinical Interview Using DSM-IV"

$22.50 USD
186 pages, soft cover
ISBN (10) 0-9680324-9-4; (13) 9780968032497

An excerpt of this book is available online in PDF format. If you have the Adobe Acrobat Reader installed you may download this excerpt to review by following this link (Three_Spheres.pdf - 35 kb)