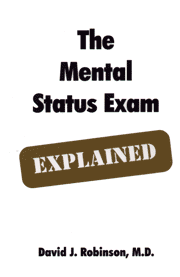 The Mental Status Exam -- Explained, 2nd Edition
The Mental Status Exam (MSE) is the component of an interview where cognitive functions are tested and inquiries are made about psychiatric symptoms. The MSE is as crucial to psychiatry as the physical exam is to other areas of medicine. This text was written to provide readers with a practical, concise, and enjoyable introduction to conducting mental status examinations.
The second edition incorporates modest changes to the text. A chapter was added dealing with Insight & Judgment. A two-page summary fo the comprehensive MSE was added (and may be freely copied).
This text is condensed from:
Brain Calipers: Descriptive Psychopathology and the Psychiatric Mental Status Examination (ISBN 1-894328-02-7)
The Mental Status Exam -- Explained, 2nd Ed.
ISBN (10) 1-894328-25-6; (13) 9781894328258
Price $ 17.00 USD
128 pages, soft cover