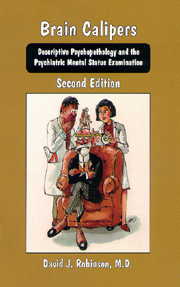 Book review from the Canadian Family Physician Vol. 44, April, 1998
OVERALL RATING: Very good
STRENGTHS: Takes an often confusing and cumbersome topic and makes it easy to read with humorous anecdotes while still being comprehensive.
WEAKNESSES: None.
AUDIENCE Medical students, family physicians, psychiatry residents, and psychiatrists.
I highly recommend this book to those interested in an easy-to-read and comprehensive overview of the mental status examination (MSE). The book starts by acknowledging most people's fears and uneasiness with the MSE, which immediately puts readers at ease. It provides a functional understanding of what the MSE is and how it integrates into the medical examination as a whole before going into fine details. The author describes the MSE as "a psychiatric review of systems" and the "physical exam of psychiatry." Each subsequent chapter deals with a different aspect of the MSE in detail. Chapters begin by making reference to the diagnostic significance of a particular component of the MSE as defined by the DSM-IV.
Topics are then introduced in a question-and-answer format, which provides a sense of active interaction between the author and readers. Many humorous illustrations and simple diagrams are used. A summary at the end of each chapter keeps readers focused on the big picture so that the "forest isn't lost among the trees." Appropriate references are available at the end of each chapter. Throughout the book, numerous examples show how to phrase difficult questions and how best to conduct an interview that is nonthreatening to patients. Common pitfalls are pointed out; mnemonics are used for "shopping list" items when appropriate, and tidbits of history are added for those who are interested. I liked the way examples and analogies were used to translate medical jargon into plain English for nonpsychiatrists. Occasionally, readers might feel overwhelmed by some of the esoteric detail. However, I believe this is a function of the topic rather than the text. The final chapter brings it all together with complete examples of how a full MSE is reported on fictitious patients. This book is an excellent introduction to and extensive overview of the MSE for anyone working in the field of medicine.
Alan L. Shievitz, MD, CCFP(EM)
Dr. Shievitz has completed an emergency medicine fellowship in London, Ont., and is currently on staff in the Emergency Department at the Queensway General Hospital in Toronto.
An excerpt of this book is availble online in PDF format. If you have the Adobe Acrobat Reader installed you may download this excerpt to review by following this link (brncal1.pdf - 163 kb)